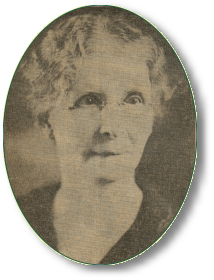 The Duluth Garden Flower Society was the vision of its founder, Rebecca Boyington, who moved to Duluth as a single mother in the early 1900s from Nova Scotia. She marveled at the natural beauty of the area, but knew it could be even better and started holding gardening meetings in her home in western Duluth in 1928. Ms. Boyington opened one of the very first greenhouses in Duluth and was soon recognized as an expert on plants that would flourish in the Duluth climate. She helped groups of gardeners from other Duluth neighborhoods form clubs and in a few short years the Society had grown from one small club to dozens of clubs and over 1000 members, all with civic beauty and education in mind.
Rebecca Boyington's vision for the Society continues today with over two dozen DGFS member clubs throughout the Twin Ports area. DGFS has worked with the City of Duluth to plant many neighborhood gardens maintained by clubs. Several clubs are built around a common interest such as roses or native plants. Many members are Master Gardeners or experts on certain plant types and willingly share their expertise.
There is something for everyone in The Duluth Garden Flower Society!
Each year DGFS holds many popular events, most of which are open to the public, including:
The Memorial Day Weekend Plant Sale, held Saturday in the Rose Garden parking lot. Plant divisions at reasonable prices. Come early for best selection.
The DGFS Holiday Dinner held in December for DGFS members and guests. There are door prizes, great food, and camaraderie to help get us through our long winters
DGFS Projects:
The Heritage Garden at the corner of 4th Street and Woodland Avenue was revealed by a city cleanup crew. Then City Gardener, Tom Kasper, organized the adoption and revitalization of this once lost garden as a Society project. The garden was re-configured in 2017 due to street changes that year. Many volunteers are needed for this project.
DGFS worked with the "Tomato Man" project inspired by DGFS member, Ray Picconatto, who grew hundreds of tomato plants to give to area school children to grow over the summer. With the goal of putting a tomato plant into the hands of every elementary school student, the project is now up to 4,000 donated plants, soil and pots! DGFS members and volunteers spend a day at the schools helping transplant the tomatoes into larger pots and answer questions. There is a followup Harvest Festival at the schools in the fall.
DGFS donates money annually for community beautification grants and college scholarships.
Many DGFS members volunteer to plant the city planters, to lift and tip the roses in the rose garden, and at many other local gardening projects and cleanups.
DGFS is affiliated with the MN State Horticultural Society (MSHS) and the Eighth District of MSHS headquartered in Grand Rapids. Optional membership into the MSHS is $35 and includes a copy of the Northern Gardener magazine. Most clubs have small annual dues and each club member pays annual dues of $5.00 to DGFS through their club.
The Duluth Garden Flower Society is always open to new members, garden proposals, and the exchange of ideas.